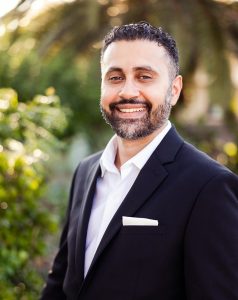 David Abdelmalak, DDS, MMSc
Dr. David was raised in Southern California and grew up in the South Bay area. He attended the University of California, San Diego, where he earned his Bachelor of Science in microbiology while volunteering with the UCSD student-run dental clinic. He graduated from Howard University College of Dentistry as a member of the national honor dental society, Omicron Kappa Upsilon. During dental school, Dr. David performed groundbreaking stem cell research with the National Institutes of Health (NIH) with a focus on tissue regeneration for cancer patients.
He then pursued his endodontic training at the Harvard School of Dental Medicine, where he earned his Master of Medical Science degree through the Harvard Medical School system. While attending Harvard, Dr. David taught endodontics to the dental students for over two years, serving as their attending doctor during clinical treatment of patients. Dr. David has lectured nationally and internationally with a focus on 3D imaging technology, advancements in endodontic instruments and the proper use of antibiotics for the treatment of infections. He had been awarded many honors and distinctions for his medical research and lectures in modern endodontics.
He is an active member of many dental societies: the American Dental Association®, the California Dental Association, the American Association of Endodontics and the American Association of Dental Research.
In his spare time, Dr. David enjoys surfing, skiing and hiking.